A Production by The Wisbech Theatre Players
Waiting For God
Sat 13th Nov 2021
SYNOPSIS
All the favourite characters from the original series are reimagined for the stage, facing the challenges that come with growing old disgracefully in the era of the silver surfer.
At Bayview Retirement Village, battle-axe extraordinaire Diana Trent conspires with new resident Tom Ballard to give the conniving manager his comeuppance through a hilarious conspiracy with unexpectedly heart-warming results.
TICKETS
Please select a show date and
time below before clicking through
to select your seat and ticket options.
Availability good limited last few
Ticket prices change according to demand, a bit like an airline. We promise that prices will never go down so the sooner you book, the less your tickets will cost. Click here to find out more about how pricing works.
TICKET STRUCTURE

From this season we are introducing a new way of buying your tickets, based completely on how much you want to support your theatre. Below explains how your purchase supports our work. Choose to be a superstar today, or buy a standard ticket - it's completely up to you!

PLEASE NOTE Ticket band is chosen following seat selection
PRESS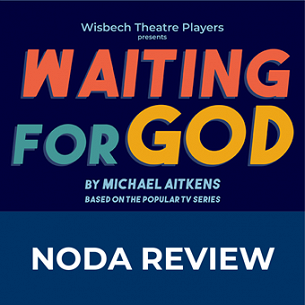 "Great success, greatly amusing!" - Waiting for God, November 2021
11th Nov 2021 READ ARTICLE
YOU MAY BE INTERESTED IN...
Play your part...

Volunteering at the Angles Theatre is a great way to support your local theatre, be part of brilliant productions and make new friends!
Take on roles ranging from front of house, chaperoning, bar work and so much more, and help drive the Theatre to success!
Find out more on our Volunteer page, and register your interest.
HOW TO VOLUNTEER
Become an Angles Theatre member today!

Become an Angles VIP member*
and enjoy these benefits:
Priority booking
Get the best seats at the lowest prices before the show goes on sale.
Workshops
Priority booking on theatre workshops, before anyone else.
VIP member event
Invitation to our exclusive annual member event, with access to upcoming shows, behind the scenes and project updates.