11th Nov 2021
"Great success, greatly amusing!" - Waiting for God, November 2021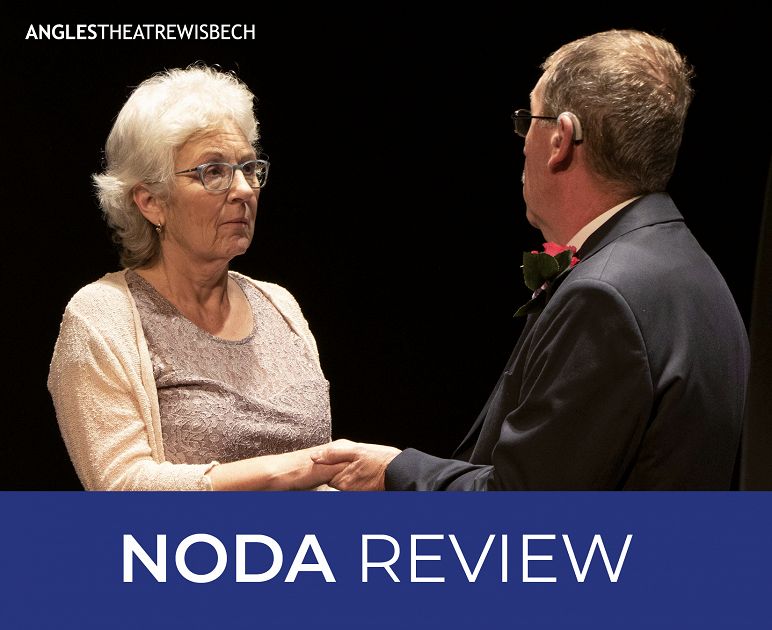 Production: Waiting For God
Society: Wisbech Theatre Players
Director: Gaye Hoyle
Date: 11th November 2021
Producing a stage version of a well-known television series is not an easy task, the script has been written with a vast range of locations and sets and television is filmed and edited to seamlessly move between scenes and however much one tries to reproduce this seamless movement on stage there are inevitable pauses between the numerous scenes. This fortunately was almost completely achieved here with most changes being very brief and covered by a choice of scene change music, there was only one change that seemed to be over long and appeared the result of a costume change.
Of necessity the set was very simple which allowed for the changes to flow, this included the forestage, being changed and used as and when necessary. I must admit for sometime that from an audience point of view the right-hand side (stage left) of the set seemed superfluous although this came into its own much later in the play. Sound and projection were good and the lighting though simple was effective, Costume was modern and entirely correct.
The play revolves around two main characters, Diana Trent and Tom Ballard. Those of us who are a little longer in the tooth will remember the excellent portrayal of these two by the wonderful Stephanie Cole and Graham Crowden. Would I be disappointed, well no I wasn't, I absolutely loved Wendy Coles in the role of Diana, I think that this is one of the best, if not the best, performance I have seen her give. Her speech, mannerisms and timing were really spot on, she really lived the life of Diana. The stern-ness, abruptness of the character, the no fuss attitude and yet the occasional tenderness with the baby born to her niece and the final scene with the non-wedding (if that was the correct way to describe it). A fine performance. This was matched by Ian Jones as Tom, another fine performance lovingly portrayed. Ian had the timing and the ability to bring humour to the role and be a perfect foil to Diane, there was some lovely interaction between him and his son alongside the interaction throughout with Diane.
Delightfully baited throughout by Diane and Tom were Manager Harvey Baines and the lovelorn Jane Edwards played by Martin Lightburn and Nicky Marsh. Despite being the butt of all the schemes and plans of their residents they performed their roles with aplomb, working well together they had a clearly displayed love hate relationship, 'you're touching me', 'Oh Harvey' which was well performed on stage. Again, they brought much humour to their appearances together on stage.
These four actors were well cast and well prepared for their roles on stage bringing their characters delightfully to life. They were supported by Erinmae Maskell as niece Sarah and Mark Fearnley as son Geoffrey who gave good performances and again matched the timing needed for the humour of this play, they were supported in several smaller roles portrayed by Bob Kynnersley, who gave us a wonderful vicar and by Vivien McCrae.
The dialogue and pace throughout were very good, the diction was excellent (shame about the one prompt), timing and humour brought well to the fore, additional sound effects were well thought and timed. All in all Gay Hoyle should be very pleased with this well performed production which she directed with great success, greatly amusing and pleasing the audience. Well done to all concerned.
Written by: Leslie Judd, NODA East Region 4N Regional Representative.
Share this article
Notes to Editors:
Press queries may be directed to:
Robert Williams, Theatre Trustee
rob.williams@anglestheatre.co.uk
---
ABOUT THE ANGLES THEATRE
The Angles Theatre is a charity (Wisbech Theatre Trust - Registered Charitable Incorporated Organisation 1173321) and cultural hub for the community, driven by passion for the work showcased, the people they work with and the audiences that come through their doors each season.
Situated in Fenland, our history dates back to the early 1700's believed to have been built as part of the Lincoln theatre circuit.
This Georgian playhouse and arts venue, with two studios and bar space, is staffed almost entirely by volunteers, from the box office and bar, to backstage, administration and day-to-day accounting.
The mission of the Angles Theatre is to inspire, challenge, nurture and empower artists and audiences in and around Wisbech and Fenland, to create opportunities for community participation in enriching theatrical experiences.
Our focus is equally on inclusion and quality, giving the public a well-balanced theatrical season with a drive for excellence that meets all of the demands placed on a community theatre.
Find out more: www.anglestheatre.co.uk
---
ABOUT NODA
The National Operatic and Dramatic Association (NODA), founded in 1899, is the leading representative body for amateur theatre in the UK.
The Association has a membership of approximately 2000 amateur theatre groups and approximately 800 individual members staging musicals, operas, plays, concerts and pantomimes in a wide variety of venues ranging from the country's leading professional theatres to village halls. Covering a broad spectrum of age ranges, NODA member societies meet the needs of all levels of both performers, whether dramatic, dance or musical, and those involved backstage, front of house or in Company administration.
Get in touch with NODA:
Tel: 01733 374790
Email: info@noda.org.uk
Mail: 15 The Metro Centre, Peterborough, PE2 7UH
Website: www.noda.org.uk