A Production by The Wisbech Theatre Players
Blithe Spirit
Sat 21st May 2022
SYNOPSIS
Wisbech Theatre Players present 'Blithe Spirit' by Noël Coward.
A spiritualist medium holds a séance for a writer suffering from writers block but accidentally summons the spirit of his deceased first wife which leads to an increasingly complex love triangle with his current wife of five years.
The combination of drawing-room comedy and ghost story enhances Coward's usual subject of people whose lifestyles defy conventional morality.
This production is presented by arrangement with Concord Theatricals Ltd. on behalf of Samuel French Ltd.
TICKETS
Please select a show date and
time below before clicking through
to select your seat and ticket options.
Availability good limited last few
Ticket prices change according to demand, a bit like an airline. We promise that prices will never go down so the sooner you book, the less your tickets will cost. Click here to find out more about how pricing works.
TICKET STRUCTURE

From this season we are introducing a new way of buying your tickets, based completely on how much you want to support your theatre. Below explains how your purchase supports our work. Choose to be a superstar today, or buy a standard ticket - it's completely up to you!

PLEASE NOTE Ticket band is chosen following seat selection
PRESS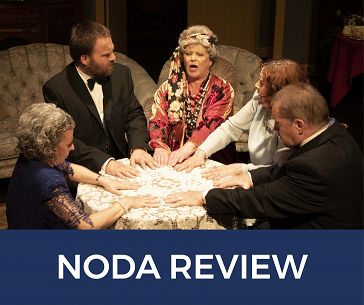 "Oozing with comfort and attention to detail" - Blithe Spirit, May 2022
31st May 2022 READ ARTICLE
YOU MAY BE INTERESTED IN...
Play your part...

Volunteering at the Angles Theatre is a great way to support your local theatre, be part of brilliant productions and make new friends!
Take on roles ranging from front of house, chaperoning, bar work and so much more, and help drive the Theatre to success!
Find out more on our Volunteer page, and register your interest.
HOW TO VOLUNTEER
Become an Angles Theatre member today!

Become an Angles VIP member*
and enjoy these benefits:
Priority booking
Get the best seats at the lowest prices before the show goes on sale.
Workshops
Priority booking on theatre workshops, before anyone else.
VIP member event
Invitation to our exclusive annual member event, with access to upcoming shows, behind the scenes and project updates.
For information about keeping you safe throughout the pandemic – click here
top
Support our charity
Did you know we're a charity?
The Angles Theatre provides vital community work and space, creating life-changing experiences that bring the magic of theatre to all.
None of this would be possible without your support. There are many ways you can help us raise funds and reach even more people, or simply donate today!
HOW CAN I HELP?
DONATE NOW