1st Oct 2021
Shrek the Musical - tickets selling fast!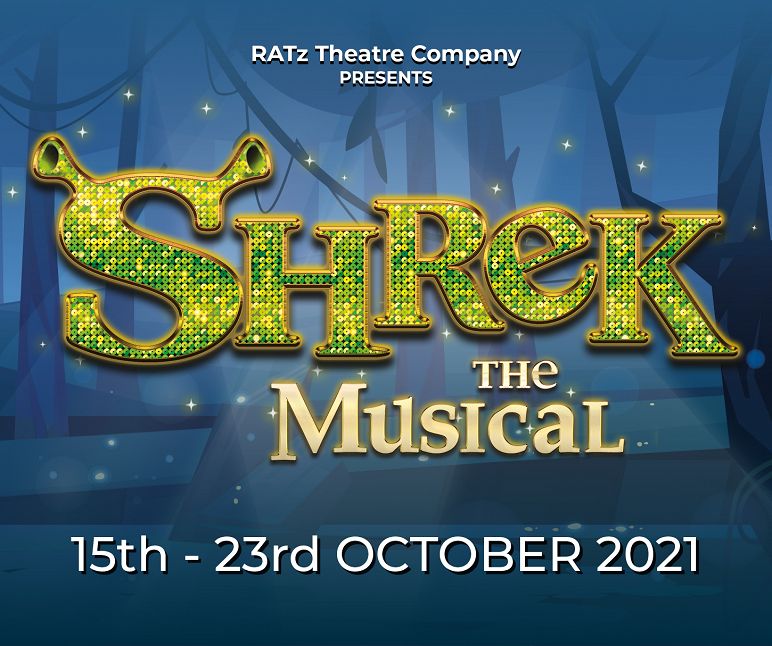 RATz Theatre Company presents Shrek the Musical!
FRIDAY 15th to SATURDAY 23rd OCTOBER 2021!
Two weeks till opening night and tickets are selling fast, so book today - https://www.anglestheatre.co.uk/whats-on/show/1173612388
Based on the Oscar-winning DreamWorks Animation film, Shrek The Musical is a Tony Award-winning fairy tale adventure, featuring all new songs from Jeanine Tesori (Thoroughly Modern Millie; Caroline, or Change) and a sidesplitting book by David Lindsay-Abaire.
Shrek brings all the beloved characters you know from the film to life on stage and proves there's more to the story than meets the ears.
"Once upon a time, there was a little ogre named Shrek...." And thus begins the tale of an unlikely hero who finds himself on a life-changing journey alongside a wisecracking Donkey and a feisty princess who resists her rescue. Throw in a short-tempered bad guy, a cookie with an attitude and over a dozen other fairy tale misfits, and you've got the kind of mess that calls for a real hero. Luckily, there's one on hand... and his name is Shrek.
Irreverently fun for the whole family, Shrek proves that beauty is truly in the eye of the ogre.
Book your tickets today - https://www.anglestheatre.co.uk/whats-on/show/1173612388
This amateur production is presented by arrangement with Music Theatre International (Europe). All authorised performance materials re also supplied by MTI Europe - www.mtishows.co.uk
Share this article
Notes to Editors:
Press queries may be directed to:
Robert Williams, Theatre Trustee
rob.williams@anglestheatre.co.uk
---
ABOUT THE ANGLES THEATRE
The Angles Theatre is a charity (Wisbech Theatre Trust - Registered Charitable Incorporated Organisation 1173321) and cultural hub for the community, driven by passion for the work showcased, the people they work with and the audiences that come through their doors each season.
Situated in Fenland, our history dates back to the early 1700's believed to have been built as part of the Lincoln theatre circuit.
This Georgian playhouse and arts venue, with two studios and bar space, is staffed almost entirely by volunteers, from the box office and bar, to backstage, administration and day-to-day accounting.
The mission of the Angles Theatre is to inspire, challenge, nurture and empower artists and audiences in and around Wisbech and Fenland, to create opportunities for community participation in enriching theatrical experiences.
Our focus is equally on inclusion and quality, giving the public a well-balanced theatrical season with a drive for excellence that meets all of the demands placed on a community theatre.
Find out more: www.anglestheatre.co.uk