8th Jun 2021
Shrek The Musical - Audition Get Together!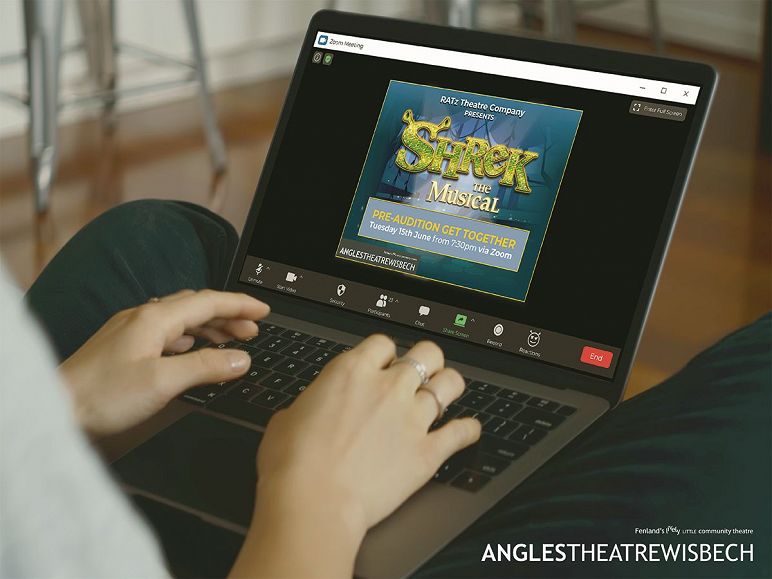 Call all performers - Join us at our pre-audition virtual get together for Shrek The Musical at the Angles Theatre on TUESDAY 15th JUNE from 7:30pm.
We're looking for a team of hard working, excited and talented performers to get started on this fun-loving, high-energy musical ready for our return to the stage.
This is the perfect opportunity to meet the team, find out more about the show (if you don't know it already!) and ask any questions you may have.
Following this, auditions will be held at the Angles Theatre from MONDAY 21st - THURSDAY 24th June 2021.
Please note:
• All roles in this show are open for audition
• All auditions will be done in a closed COVID-secure setting
• The minimum age for participation is 16 years (you will need to have completed your GCSE year)
• Links to download backing tracks for the audition are provided in an Audition Pack, along with information on which songs are required for your audition (you may not sing unaccompanied)
• Alternative audition days for interested performers who cannot attend on the audition dates can be arranged, though requests must be made prior to the first date. Please get in touch with a member of the production team to enquire.
Further information about the characters, audition schedule and requirements will be posted on this page over the next week.
Based on the Oscar-winning DreamWorks Animation film, Shrek The Musical is a Tony Award-winning fairy tale adventure, featuring all new songs from Jeanine Tesori (Thoroughly Modern Millie; Caroline, or Change) and a sidesplitting book by David Lindsay-Abaire.
Shrek brings all the beloved characters you know from the film to life on stage and proves there's more to the story than meets the ears.
The production team for this show is:
• Director: Kevin Shippey
• Musical Director: Marie Cunningham
• Choreographer: Conan Nicholas
All cast members must ensure they are available for all of the below performances:
• Friday 15th October 2021 at 7:30pm
• Saturday 16th October 2021 at 7:30pm
• Tuesday 19th October 2021 at 7:30pm
• Wednesday 20th October 2021 at 7:30pm
• Thursday 21st October 2021 at 7:30pm
• Friday 22nd October 2021 at 7:30pm
• Saturday 23rd October 2021 at 7:30pm
Join the Facebook event page for more information - https://fb.me/e/3CRfSvuNb
Sign up here to be sent the Zoom link - https://zoom.us/.../tJIsfu-prjIqGtFhiLFgH3NrZJvy17CtKnO-
If you have any queries, please don't hesitate to get in touch with a member of the team.
We look forward to seeing you soon!
Share this article