30th Dec 2021
"An excellent production" - Dick Whittington, December 2021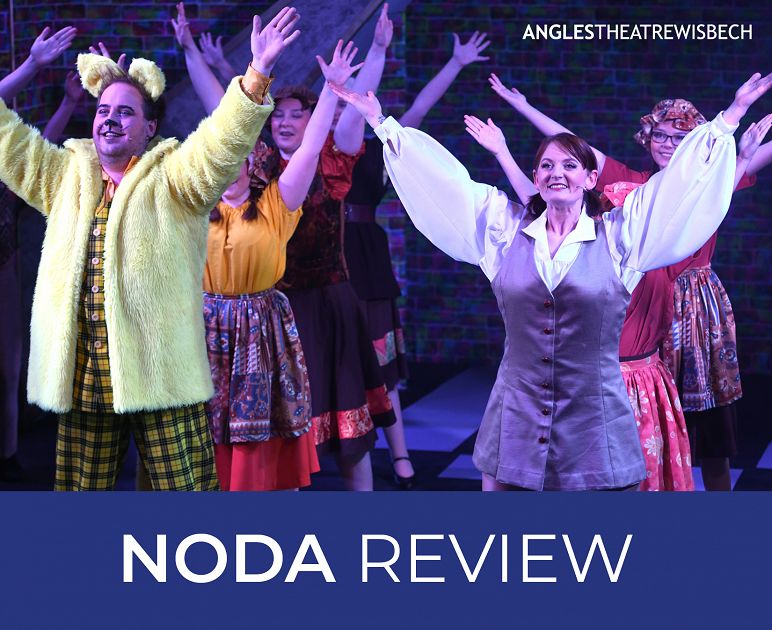 Production: Dick Whittington
Society: RATz Theatre Company
Director: Robert Williams
Date: 30th December 2021
With all the problems that Covid has presented to the world of theatre, it was again a pleasure to be entering a theatre to watch a live show and this production had not been without its cancellations and illnesses. There was a large audience of youngsters who all enjoyed themselves, well mainly, I can't say the same for the little boy sat next to me who was a right little grump.
How does a small theatre get Tower Bridge onto its stage? Simple, create a form of the Proscenium arch by building a modern interpretation of the Bascules and the Towers to create the main feature of the set creating a visual link to London for all the audience to recognise. This remained the back drop/set for the whole Pantomime with additional side entrances in the base of the 'towers' used to effect as entrances to the Big Buns Bakery, or the cellar/jail in King Rats Lair. With a well-designed lighting plot this was all that was required to create the various scenes throughout the show.
The story does not need re-telling, the small but perfectly formed ensemble were a joy to watch, but it was the principals that were the real stars, the Director had cast the right actors in their roles and they performed their roles and told the story without a qualm. Let me say here that the choice of songs was most appropriate and the principal singing couldn't be faulted, nor could the company numbers.
Throughout the show, diction was perfect, sound was good, lighting as previously mentioned was well designed and atmospheric and used to good effect whether in the London Sewers, the Bottom of the Sea or the deck of the SS Saucy Sal. Props and set were really good and the Costume Team had come up with excellent costumes and good make-up and hair created by Kerry Shippey and a team from the College of West Anglia, although as an experienced Dame Kevin had his own wigs and he looked frightfully good in them.
We all know that despite however well the title role is performed that it is the Dame that we look to and Kevin Shippey as Dame Sarah gave an excellent performance, timing, singing, mannerisms, acting, playing to the audience, he was given a good run for his money though by his son Josh as Idle Jack, these two just bounced off each other and gave excellent performances. Of course, we had to have a baddie we could boo and hiss and Billy Garner reveled in his role as King Rat, his costume and make-up combined with his voice and movement/actions on stage gave us a delicious baddie to boo.
It was a shame that due to illness Liam Nixon was unable to perform as Tommy the Cat, having seen him as Donkey in Shrek I'm sure he would have been a good cat. However, into the role stepped Choreographer Danielle Shippey, and we would not have known that she had not originally been cast as the Cat, she performed this role without a hitch and only she would know if she hadn't been word perfect. Both she and Sam Rose as Dick Whittington gave good performances. Sam strolled confidently into London and into her whole performance as Dick, from her interaction with Tommy and her scenes with Alice Fitzwarren played by Melissa Middleton she gave a good performance. So too did Melissa who looked the part of the stage 'beauty' these two had good singing voices and sang well together and moved well on stage.
These principals were ably supported by Lizzie Bryant and Jenny Bryant as Spirit of the Bells and Alderman Fitzwarren (etc.). Lizzie has a voice that many would die for and commands the stage when she is singing, Jenny too is a good singer so together there was good clear diction on stage. A mention too for Jack as Ricky the Rat and Erinmae as Roxy the Rat, actors to look forward to in the future.
The young company forming the two dance teams sang with gusto and their dancing had been well drilled into them, this might only have been a small group but they more than filled the stage, being dancers, rats, sailors etc., with a good routine with mops on the deck of the Saucy Sal.
This pantomime had all the usual effects that one expects from a Pantomime, Audience participation (abuse), slapstick, singing, cake in the face routine. With Sarah and Idle Jack this was one of best I have seen but the memory of Sarah's dresses, hats and wigs is one to remember. An excellent production and I'm glad that it was able to go ahead despite everything so well done to the Cast, Crew, Choreographer and particularly Director.
Thank You.
Written by: Leslie Judd, NODA East Region 4N Regional Representative.
Share this article
Notes to Editors:
Press queries may be directed to:
Robert Williams, Theatre Trustee
rob.williams@anglestheatre.co.uk
---
ABOUT THE ANGLES THEATRE
The Angles Theatre is a charity (Wisbech Theatre Trust - Registered Charitable Incorporated Organisation 1173321) and cultural hub for the community, driven by passion for the work showcased, the people they work with and the audiences that come through their doors each season.
Situated in Fenland, our history dates back to the early 1700's believed to have been built as part of the Lincoln theatre circuit.
This Georgian playhouse and arts venue, with two studios and bar space, is staffed almost entirely by volunteers, from the box office and bar, to backstage, administration and day-to-day accounting.
The mission of the Angles Theatre is to inspire, challenge, nurture and empower artists and audiences in and around Wisbech and Fenland, to create opportunities for community participation in enriching theatrical experiences.
Our focus is equally on inclusion and quality, giving the public a well-balanced theatrical season with a drive for excellence that meets all of the demands placed on a community theatre.
Find out more: www.anglestheatre.co.uk
---
ABOUT NODA
The National Operatic and Dramatic Association (NODA), founded in 1899, is the leading representative body for amateur theatre in the UK.
The Association has a membership of approximately 2000 amateur theatre groups and approximately 800 individual members staging musicals, operas, plays, concerts and pantomimes in a wide variety of venues ranging from the country's leading professional theatres to village halls. Covering a broad spectrum of age ranges, NODA member societies meet the needs of all levels of both performers, whether dramatic, dance or musical, and those involved backstage, front of house or in Company administration.
Get in touch with NODA:
Tel: 01733 374790
Email: info@noda.org.uk
Mail: 15 The Metro Centre, Peterborough, PE2 7UH
Website: www.noda.org.uk