19th Oct 2021
"This exuberant production hit all the high notes" - Shrek The Musical, October 2021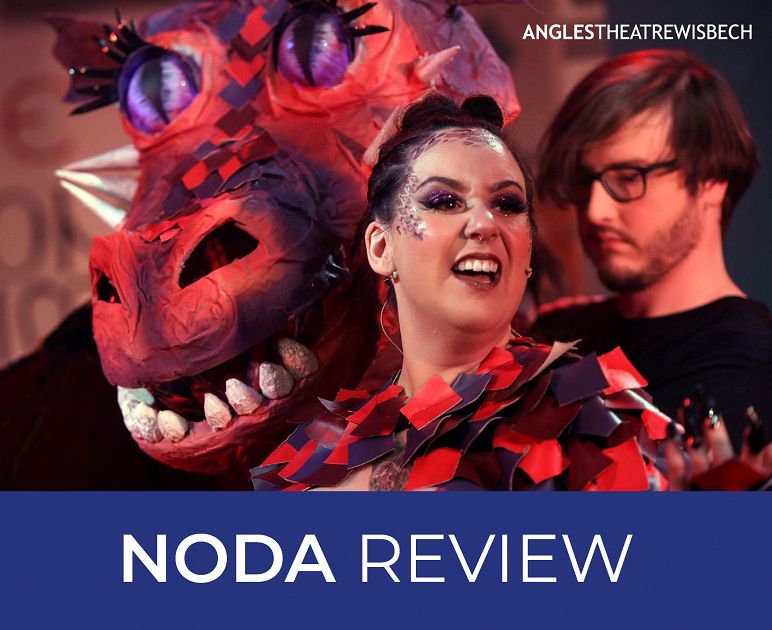 Production: Shrek the Musical
Society: RATz Theatre Company
Director: Kevin Shippey
Choreographer: Conan Nicholas
Musical Director: Marie Cunningham
Date: 19th October 2021
Fizz, bubble and sparkle, no, not the sound of the director pouring out champagne to celebrate a successful production, but the sight and sounds of RATz production of Shrek the Musical.
This exuberant production hit all the high notes, metaphorically and literally. One knows that going to the Angles Theatre Wisbech you are going to see a good production, but I think that this one should be judged amongst one of their finest. As Tessa, Regional Councillor said afterwards, I don't envy Leslie writing this review. So where do I begin, I think with the programme, who doesn't read a programme before lights dim and 'the curtain goes up'? The high quality, full colour pictures gave a foretaste of what was to come showing costumes, cast, little bios and information.
From the opening numbers the sound and movement were fantastic, dialogue throughout was clear, only surpassed by the clarity of the singing, my goodness there were some fantastic voices, and that was just the company, who all at some time had a named role in the show. Singing and timing was spot-on, all-in unison and musical very adept, as so many were mic'd, the one or two who weren't were therefore noticed. Marie Cunningham, MD had worked the company hard and she should be very proud of not only the Company's singing, but more especially the principals.
Complimenting this was the synchronicity of the dance routines. The dance team's talents were put to such good use by Choreographer Conan Nicholas and as well the Company at large. Whether it was the big company numbers like Story of My Life, Freak Flag or the smaller numbers like Morning Story or Make a Move these were performed effortlessly with gusto, timing and 'perfection'.
Movement throughout was well paced and spaced, this can sometimes be hindered with a large company in a small space but the director had no problems here, entrances and exits were well planned as were the simple set changes. So clever the book cover as a 'back drop' opening and closing as required so that the whole show flowed nicely. The use of a bridge at the rear of the stage allowed for an extra dimension which gave greater flexibility and provided the tower for the younger Fiona's and a setting for the absolutely stunning dragon expertly performed by three puppeteers and stunningly sung by Emma Small – what a voice and an amazing costume. The Dragon's head was amazing.
The Costumes throughout were absolutely wonderful, carefully thought through for each character, for all the story book characters, from three little pigs to the guards of Duloc and not forgetting Pinocchio with a nose that grew! Of course, the principals' costumes were excellent as they should have been, the Donkey (boy he must have been hot), Princess Fiona's costume, Shrek's Costume (even hotter than Donkey) and the amazing Lord Farquaad costume. These were all made in house and the time and effort put in by the Costume team produced a stunning display worthy of the West End.
You can't review a show like this without mentioning the make-up and hair, done by the Students of COWA, and led by Kerry Shippey was really superb, Shrek's was amazing and was worth the time spent creating it for each performance along with his costume, also clever make-up for Donkey and for Lord Farquaad, not to mention the transformation of Princess Fiona at the end.
There were stars a plenty in this show, too many to mention individually although I've made an exception having already mentioned Emma Small as the Dragon, and will too Natalia Beare as Pinocchio, how, did she keep up that voice?
The following really do share equal billing so they are listed alphabetically for that reason.
Billy Garner's Lord Farquaad was a tour de force, his performance on his knees throughout, they must ache by now! Great singing and acting, his facial expressions and acting in the 'wedding' just brilliant. Josh Shippey as Shrek gave an incredible performance, with a great voice for singing, there was clear dialogue whilst keeping a Scottish accent, lovely characterisation, this was a performance that owned the stage and made one want to have their own Ogre. Laura-Jayne Cook's Princess Fiona was a perfect match to Shrek, again a great singing voice with range and variety, she showed many emotions, great facial expressions and again owned the stage, lovingly sharing it with Shrek. What can one say about Donkey, playing up the comedy of his character Liam Nixon was having a great time, and it showed by his expression, movement and faithfulness the full extent of his friendship with Shrek. These four had some wonderful numbers such as The Ballard of Farquaad, Travel Song, When Words Fail, Morning Person and more. All sung superbly.
This was a production that director Kevin Shippey and The Angles Theatre can be well proud of, so get that Champagne out and celebrate together with the Company, and all those back stage - Stage Crew, Sound, Light, Set design and build, Props etc.
Very well done.
Written by: Leslie Judd, NODA East Region 4N Regional Representative.
Share this article
Notes to Editors:
Press queries may be directed to:
Robert Williams, Theatre Trustee
rob.williams@anglestheatre.co.uk
---
ABOUT THE ANGLES THEATRE
The Angles Theatre is a charity (Wisbech Theatre Trust - Registered Charitable Incorporated Organisation 1173321) and cultural hub for the community, driven by passion for the work showcased, the people they work with and the audiences that come through their doors each season.
Situated in Fenland, our history dates back to the early 1700's believed to have been built as part of the Lincoln theatre circuit.
This Georgian playhouse and arts venue, with two studios and bar space, is staffed almost entirely by volunteers, from the box office and bar, to backstage, administration and day-to-day accounting.
The mission of the Angles Theatre is to inspire, challenge, nurture and empower artists and audiences in and around Wisbech and Fenland, to create opportunities for community participation in enriching theatrical experiences.
Our focus is equally on inclusion and quality, giving the public a well-balanced theatrical season with a drive for excellence that meets all of the demands placed on a community theatre.
Find out more: www.anglestheatre.co.uk
---
ABOUT NODA
The National Operatic and Dramatic Association (NODA), founded in 1899, is the leading representative body for amateur theatre in the UK.
The Association has a membership of approximately 2000 amateur theatre groups and approximately 800 individual members staging musicals, operas, plays, concerts and pantomimes in a wide variety of venues ranging from the country's leading professional theatres to village halls. Covering a broad spectrum of age ranges, NODA member societies meet the needs of all levels of both performers, whether dramatic, dance or musical, and those involved backstage, front of house or in Company administration.
Get in touch with NODA:
Tel: 01733 374790
Email: info@noda.org.uk
Mail: 15 The Metro Centre, Peterborough, PE2 7UH
Website: www.noda.org.uk