24th Sep 2021
"The best in Amateur Theatre" - Educating Rita, September 2021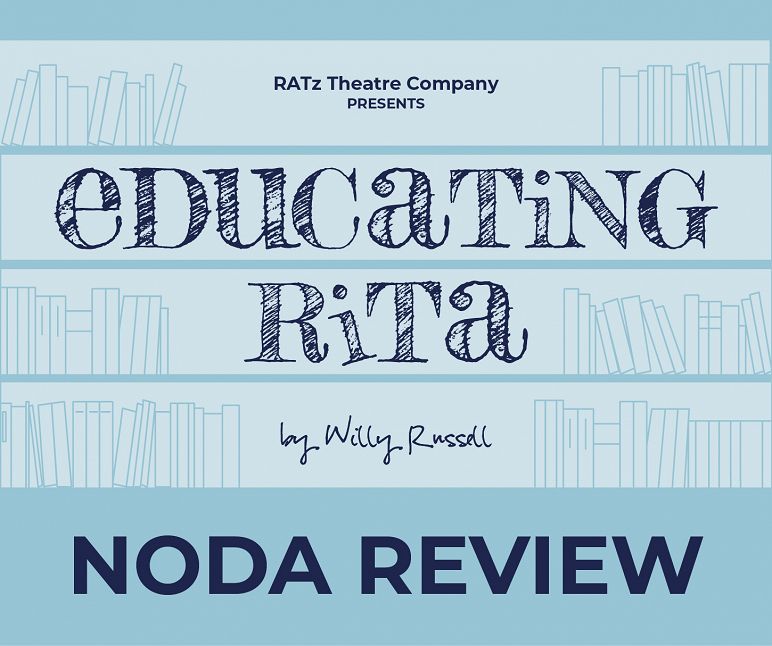 Production: Educating Rita
Society: RATz Theatre Company
Director: Rebecca Phillips-Bartlett
Date: 24th September 2021
Having had a stressful drive to the theatre, worrying I wouldn't get there on time, why do people who have to panic buy petrol have to block the main road into town it was nice to sink into the new seats in the refurbished auditorium. Thanks to an enforced Covid-19 shutdown and two grants the Theatre is looking great and not had to suffer voluntary closures to do the work.
Sitting back to enjoy the set there were so many props to take in an admire, the set was very well dressed with numerous book cases and books that a literature tutor would have in his University Study, a traditional portable typewriter, a gramophone with a HMV record on the turntable, sets of encyclopedias, looking closely some hidden bottles of alcohol. Even a book entitled 'Ancient Costumes' which I really wanted to pick up and look at, the advantage of a small intimate theatre with no proscenium arch. This does show how carefully one needs to dress the set and this did look much as I imagine a Tutor's study to look, busy, disheveled and a little tired looking, even down to its sticking door.
As much as this well dressed set deserved praise the actors costumes were most definitely in keeping with the characters that they were portraying. Rita was correctly dressed as a working-class hairdresser, every entrance featuring a change to costume, be it a change of top or a skirt. More to the point, as Rita's character changed becoming more confident and stepping away from her working-class roots so did her style and wardrobe, her make-up and voice changing alongside this transformation. Frank's suit was also suitable chosen for style and look, but also for comfort, whilst lounging back in his chair or sitting at his desk.
The two actors, Jo Sherry as Rita and Al Duncan as Frank made excellent portrayals of their respective characters. Having known Jo for some years I know that she was worried about playing a character (much) younger than herself but she needed not have worried, from her first entrance she really was and looked a 29-year-old. She bloused on to set as a very typical mouthy working-class girl with a good accent which she held on to throughout her performance. For both actors this is a demanding production, the need to be seen expressing and showing feeling and emotion. Emotions that continue to develop and grow throughout, and emotions that need to be recognised and seen and heard developed by the audience. This was portrayed with ease and style by both actors, I first saw this as a play around 16 - 17 years ago and I do not recall this development then.
For Al it's not easy portraying an alcoholic and as he saw Rita's need for him ebbing away so his alcoholism came to the fore, this was very subtlety shown and grew through his clever portrayal.
It is not possible to cast the acting crown to either actor, this was a great performance by both who were comfortable with each other on stage, interacted with each other and had a great rapport with each other. The way they used the most nuanced of looks at each other, the use of glasses by Frank, the carrying of their bodies as they moved on stage and faced each other so that we the audience were really looking through a wall at two people reacting to each other in a room. The rise and fall of their voices, the humour that was continually brought out in the dialogue was a joy to watch and listen to.
We really did want to know if Rita went to France for Christmas with Tiger and his pals or if she went off to Australia with Frank after having moved on from her 'posh' pal Trish.
The whole production was well directed and thought through, including not just the set design and dressing and costumes, but also the snippets of wireless and music used at scene changes, the lighting and the whole tempo of the show.
It might have been 'Educating Rita' but it could also have been 'Educating the audience' in how to recognise the best in Amateur Theatre.
Written by: Leslie Judd, NODA East Region 4N Regional Representative.
Share this article
Notes to Editors:
Press queries may be directed to:
Robert Williams, Theatre Trustee
rob.williams@anglestheatre.co.uk
---
ABOUT THE ANGLES THEATRE
The Angles Theatre is a charity (Wisbech Theatre Trust - Registered Charitable Incorporated Organisation 1173321) and cultural hub for the community, driven by passion for the work showcased, the people they work with and the audiences that come through their doors each season.
Situated in Fenland, our history dates back to the early 1700's believed to have been built as part of the Lincoln theatre circuit.
This Georgian playhouse and arts venue, with two studios and bar space, is staffed almost entirely by volunteers, from the box office and bar, to backstage, administration and day-to-day accounting.
The mission of the Angles Theatre is to inspire, challenge, nurture and empower artists and audiences in and around Wisbech and Fenland, to create opportunities for community participation in enriching theatrical experiences.
Our focus is equally on inclusion and quality, giving the public a well-balanced theatrical season with a drive for excellence that meets all of the demands placed on a community theatre.
Find out more: www.anglestheatre.co.uk
---
ABOUT NODA
The National Operatic and Dramatic Association (NODA), founded in 1899, is the leading representative body for amateur theatre in the UK.
The Association has a membership of approximately 2000 amateur theatre groups and approximately 800 individual members staging musicals, operas, plays, concerts and pantomimes in a wide variety of venues ranging from the country's leading professional theatres to village halls. Covering a broad spectrum of age ranges, NODA member societies meet the needs of all levels of both performers, whether dramatic, dance or musical, and those involved backstage, front of house or in Company administration.
Get in touch with NODA:
Tel: 01733 374790
Email: info@noda.org.uk
Mail: 15 The Metro Centre, Peterborough, PE2 7UH
Website: www.noda.org.uk